I'm back from the worlds most intense week ever and in serious need of bathrobe-donning laptop gossiping time. So what's (non-disaster related) news? Anything much?
Who is this person talking about? Why, non other than our favorite self-obsessed, possibly emo, wannabe cool guy Kamenashi Kazuya. Desu~
The article is titled "Pain drive [cruise]? Popular KAT-TUN idol is dangerous?". Ikr, what the fuck is pain cruising, some new hobby for emo kids with enough money to self-harm by crashing cars?
This article says that there's whispers about Kame's recent un-popularity - never mind the article title then - and says he is described as the man who is glittering and glorious on stage, but changes in an instant to dark natured and moody in private.
What, you mean like from this: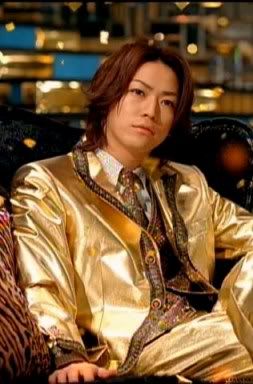 to this?:
Say what you want. I'd call that 'getting out of costume'.
Kame is meant to be the most popular one of the group thanks to his amazing eyebrows and the rest of the members doing retarded things like wearing british flag cardigans and getting bowl-cut hair. Yeah, I'm lookin at you Maru. There's just no moving on from something like that. Things have been far from smooth sailing though, with 'discord between members', Jin dumping his ass, walkin out the door and giving back the key, and then proceeding to pwn the world according to music charts in Japan. Oh yeah and the fact that everything he touches drama-wise of late has had the worst ratings of the season. I love Kame as an actor but even I couldn't make it through more than 2 eps of Kami no Shizuku.
And now we have an example of his personality change, provided by an 'information providing friend'. Probably Koki right?
"I got a random call in the middle of the night from Kame saying he was out driving with 4 friends. I thought he was joking but he called it a 'pain cruise', lol. But if you're wondering what four guys were doing together all night (why yes, yes I am), he said they went to Odaiba and played games in an arcade until the morning, and it's probably half true."
It seems like four guys went and played arcade games in the middle of the night until morning. Come on now, that's just crazy talk! Guys, playing arcade games! Next thing you know girls will start sitting around painting finger nails or something.
Kame used to be into darts and he'd frequently be seen taking girls to darts bars. Has he ditched darts and become addicted to arcade token games? DOES IT MAKE ANY DIFFERENCE? It's not just this monumentous backflip in his character though, there's MORE. I should hope so cause srsly...
"He goes to standing bars with guys only. He hangs out less and less with friends, and his mood is slowly changing. He doesn't go and get loose with the guys anymore." Well Informed-san said.
This is sounding more and more like the punchline is going to be gay accusations. What am I talking about we all know he's a total swinger XD
You apparently wouldnt really expect to see a JE idol in a standing bar or in those cheap little restaurants with red paper walls cause JE idols aren't expected to be seen slummin it in the ghetto - unless it's Ryo. Kame has been making a habit of it though, probably because young girls who harass the shit out of him would never go to those places to look for him. He used to go everywhere disguised and wearing sunnies inside, but lately he's given up on that.
The writer gets says we get the idea that maybe Kame is a wee bit messed up in the head [sick]. Eg: On days off he borrows sad DVD's and cries alone in his room.
gaygaygaygaygaygaygaygaygaygaygaygaygayg
aygaygaygaygaygaygaygaygaygaygaygaygayga
ygaygaygaygaygaygay
At this rate will he continue on the path of Jin and have to have emotional time off like some guy from some comedy act?! Who knows, and bless their ability to BLAME JIN for leading the world down the path of misery and destruction one idol at a time.